Product Packaging

In addition to packaging, PSI is a foam parts supplier for automotive assembly plants.
PSI can accurately profile foam parts that provide masking for sprayed on coatings or to act as bumpers to prevent accidentally damage to finished parts.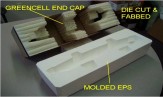 Packaging Systems Inc. has been converting polystyrene, polyethylene,and polypropolyene foams for the packaging industry for over 19 years.
PSI has in house capability to die cut, saw cut, and hot wire foams with great accuracy.
The customer can provide design criteria or we can suggest alternative packaging approaches. Warehousing and JIT production support is also within PSI's capabilities.

At the customer's request PSI can provided parts with 100 % inspection for size and ergonomic use. These parts would be used for hand applied ' in-line ' applications in the assembly plant.
Packaging Systems Inc. is a high quality, cost competitive supplier.