What's New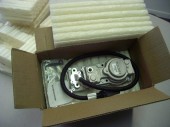 Greencell is a starch based foam that is provided in sheet stock thicknesses of 1/8, 1/4, and 1/2 inch. Larger thicknesses of Greencell are fabricated by laminating 1/2 inch layers to create design thicknesses.
Material sheets or planks of the starch based foam are typically provided in 24 inch nominal widths and cut to specified lengths. A variety of colors are also available for Greencell.
The typical product density is 2.4 pcf or 0.0385 g/cc
Greencell can be die cut or saw cut to specific sizes and designs.
Water based or hot melt glue can be used for part fabrication.
The material degrades in a landfill making the foam an ideal candidate for overseas shipments.
Greencell is an anti-stat, desiccant material that is ideal for electronic parts packaging.
Customers have not experienced Greencell degradation for parts stored in large cartons for one year.
For cost savings Greencell can compete with polystyrene and foam in place polyurethane foam applications by re-designing the interior pack.
For the more expensive polyethylene and polypropylene dunnage parts Greencell can be substituted without a major re-design to save cost.