About PSI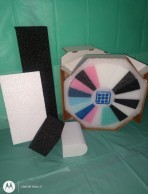 PSI is a packaging converter with over 24 years of experience in providing custom packaging solutions.
We purchase commercially available recycled and green foam materials used in the marketplace today. Our charter is to provide custom dunnage systems accurately and with consistent quality. We convert all the commercially available foam and specialize in green foam alternatives.
PSI is a 15 year Tier 1 green packaging supplier to Volvo truck for replacement glass shipments and a 12 year Tier 2 supplier to the Japanese automotive industry for production paint masking. We can cut foam shapes accurately the within 100% and 0 defects.

PSI is a registered SAM.gov, Cage Code 8K9C4. We can bid on federal projects.
Also, PSI is familiar with the FedEx and UPS shipping test protocols and we have provided parts with ISO 9000 certification.
PSI Profile & Capabilities

Packaging Systems has the ability to design and profile interior foam dunnage used for finished parts protection. PSI can provide cut foam parts with precision to be used for automotive production applications, and to protect finished goods during shipping.
Packaging Systems also has provided warehousing and assembly of packaging cartons used for JIT outbound global shipments of automotive production parts.