Replacement Parts Packaging

PSI has experience in providing replacement parts packaging for bumpers, exterior trim parts, and sunroofs as shown in the illustration.
Replacement parts dunnage is typically constructed from corrugated components or a combination of corrugated and foam.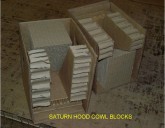 Shown here on the right is a current hood corner block made up of 5 assembled corrugated parts.In addition to sheet metal replacement parts, PSI currently provides Greencell packs for truck and construction equipment replacement glass.
The PSI Greencell packs for Volvo meet ISTA requirements and are ideally suited for overseas shipment.
After three years of using Greencell for the replacement windshield packs the glass breakage has been reduced to 1/2 of that using conventional packaging foams.