Fullfillment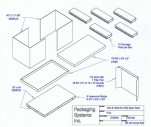 PSI has provided production support for roof racks built domestically and shipped to Europe for minivan and SUV builds.
PSI's responsibility in this program was to warehouse and assemble shipping containers for 'just in time' production.

This particular project provided dunnage pads for exhaust pipes which were built on demand.