Greencell Packaging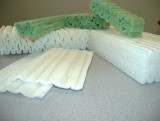 Packaging Systems Inc. has been a lead in converter for bio-degradable packaging foam. The current success of the Greencell has been for electronic and glass packaging because of its anti-static and cushioning properties respectively.
More recent markets are emerging for the use of the Greencell sheet material as an insulator for overseas shipments of frozen foods and pharmaceuticals.

Greencell is naturally anti-static, absorbs fluids, and is chemically resistant to oils and corrosive fluids.

These properties are useful for packages with contained liquids and electrical or electrical-mechanical components.
In addition to attractive robust material properties, the material can be fabricated with current cutting methods and adhesives.