Production Foam Parts

Packaging Systems Inc. supplies profiled foam spacers used in the automotive trim shop. 
The profiled spacers do not require the tooling investment needed for molded foam parts.

PSI has supplied polyethylene trailer hitch blocks used to prevent incidental damage to front bumpers when newly built vehicles are driven off the final assembly plant line.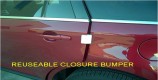 PSI currently supplies polyethylene blocks used to prevent doors, hoods, and lift gates from latching during assembly plant builds.

PSI supplied polystyrene foam blocks that are used for paint and undercoating masking applications in the automotive assembly plant. 
All of the above production parts require 100% inspection with close attention paid to part size and the ease of part in-line application for the assembly plants.